General transport information
INSURANCE
We recommend that you take out insurance against possible loss and damage to your parcel. The price for insurance is 1% of the value of the shipment, with a minimum rate of 300,- excluding VAT. In case of delivery of the shipment in person with payment at DHL ServicePoint, it is possible to insure the shipment for a maximum value of CZK 30,000.
In the case of the air variant, the insurance covers not only the value of the shipment, but also the cost of transportation

EXTENDED LIABILITY
In case of transporting document shipments it is worthwhile to arrange extended liability for 100,-. In case of loss or damage of documents, you will be paid a lump sum of 10,000,-.

REPAIR PRICE CALCULATION
The price for carriage is determined on the basis of either physical or volumetric (i.e. volumetric) weight. The price is determined by the weight whichever is greater, at the piece level. DHL Express uses a standard formula for calculating volumetric weight based on current IATA regulations, i.e. (length × width × height in cm) / 5,000 = volumetric weight in kg.
DHL Express Easy Price List

PACKING THE BACK
Please keep in mind that each shipment must be packed in such a way as to prevent damage to it or to other shipments in transit. If you are unsure of the correct packaging, the packing tips HERE may help.
A shipping piece that exceeds 70 kg must be placed on a pallet and notified to us ideally one day before pick up.
For a guide on how to pack a pallet shipment see HERE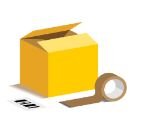 APPLICATIONS
In the MyDHL+ app, you can order and order at your convenience. Shipping is instantly available and you can also create your own full invoice or upload it to us electronically. You can use the app without logging in, but to take advantage of all the benefits, we recommend logging in. A brief instruction sheet can be found HERE.

SHIPMENT PROCESSING OUTSIDE THE EU
For shipments outside the EU, you must attach a customs invoice in triplicate. In case of ordering via MyDHL+ you can upload the documents electronically.
Please note that in these cases the price for shipment does not include customs fees and taxes that may be assessed in the country of delivery.