Find the nearest DHL Locker
Trafika MISCH - MASCH

1. maje 56
538 43 TREMOSNICE

Trafika a chovatelske potreby Klorova

namesti Miru 86
538 03 HERMANUV MESTEC

EuroOil Cepro CHOT 72

Havlickova 1673
583 01 CHOTEBOR

EUROBit Chrudim 1

Obce Lezaku 771
537 03 CHRUDIM

EUROBit Chrudim 2

Olbrachtova 36
537 01 CHRUDIM

RYBASHOP

Ovcarecka 287
280 02 KOLIN

Vinoteka Humpolec

Masarykova 1610
396 01 HUMPOLEC

Tonery HP

17. listopadu 182
530 02 PARDUBICE

DHL Locker Atrium Palac Pardubice

Masarykovo namesti 2799
Patro -1, Vstup do parkingu "A"
530 02 PARDUBICE

Turisticke informacni centrum Pardubice

trida Miru 60
530 02 PARDUBICE

Na Pergole

Belehradska 479
530 09 PARDUBICE

OBCHOD PRO VASE ZVIRE

Klicperovo nam. 68
503 51 CHLUMEC NAD CIDLINOU

Drogerie PVB

Husovo namesti 32
533 03 DASICE

Obchod Vcelin

Fugnerova 224/23
290 01 PODEBRADY

Levnej kram

Budovcova 1345
290 01 PODEBRADY

Lubomir Rek

Jamska 1670/30
591 01 ZDAR NAD SAZAVOU

AWORLD s.r.o

Brnenska 2424/53
591 01 ZDAR NAD SAZAVOU

Hracky PERLA

Namesti Republiky 15
289 03 MESTEC KRALOVE

EuroOil Cepro PEL 210

Prazska 1419
393 01 PELHRIMOV

DHL Express

Brezhradska 199/2a
503 32 HRADEC KRALOVE

Obchudek U Lipy-Hradec

Jiriho Purkyne 1140/23
500 02 HRADEC KRALOVE

Bylinky a caje - Poliklinika III

Edvarda Benese 1549
500 12 HRADEC KRALOVE

AGI HK

Spitalska 183/3
500 03 HRADEC KRALOVE

Auto Oburka

U Viaduktu 2231/10
586 01 JIHLAVA

Pletaci prize

Jana Masaryka 18
586 01 JIHLAVA

DHL Express

Brnenska 71
586 01 JIHLAVA

Drogerie Nechanice

Palackeho 57
503 15 NECHANICE

PYRAMIDA

nam. Premysla Otakara ll. 210
566 01 VYSOKE MYTO

FLIP nakupni centrum

Prazska 309
251 62 MUKAROV

Moda Klarka

Barakova 237/8
251 01 RICANY

Romantika - vas kreativni svet

Racinevska 2444/21
190 16 PRAGUE

Stylovy obchudek

Masarykovo namesti 42
503 46 TREBECHOVICE POD OREBEM

TELUX servis

Smetanova 655
517 21 TYNISTE NAD ORLICI

Papirnictvi - NARPA Kostelec n.O.

Jiraskovo nam. 57
517 41 KOSTELEC NAD ORLICI

Zelezarstvi - papirnictvi

Husovo namesti 3
517 54 VAMBERK

OBCHOD PRO VASE ZVIRE Horice

Namesti Jiriho z Podebrad 172
508 01 HORICE

Knihlupectvi - Monika Chvalova

Vackova 62
394 70 KAMENICE NAD LIPOU

FONOREX

Masarykovo namesti 17
593 01 BYSTRICE NAD PERNSTEJNEM

Expan Papirnictvi

nam.Ceskoslovenske armady 23
551 01 JAROMER

KNIHY NA BURZE

Prazska 45/60
294 71 BENATKY NAD JIZEROU

Delikatesy Amelie

Valdstejnovo namesti 99
506 01 JICIN

The BIKE s.r.o.

Nakupni 1462
252 42 JESENICE

DHL SAPA Vu Nam

Libusska 319
142 00 PRAGUE

DHL Express

V Parku 2308/10
148 00 PRAGUE

DHL Locker Westfield Chodov

Roztylska 2321/19
patro -M, modre lobby, parking
148 00 PRAGUE

Potraviny Ohradni

Ohradni 1345/6
140 00 PRAGUE

Albrecht opravy

Druzstevni ochoz 1717/5a
140 00 PRAGUE

ALMI PRAHA

Nachodska 712/104
193 00 PRAGUE

DHL Locker Tesco Cakovice

Cukrovarska 786/69
196 00 PRAGUE

DHL Locker Galerie Harfa

Ceskomoravska 2420/15a
zvysene prizemi
u vchodu z ulice Ceskomoravska
190 00 PRAGUE

DHL Locker Tesco Skalka

Pretlucka 3295/50
ground floor
right side entrance from parking
100 00 PRAGUE

Trenyrkarna.cz

Sokolovska 971/193
190 00 PRAGUE

Chovatelske potreby B.n.L.

Sarochova 103/18
250 01 BRANDYS NAD LABEM

DHL Locker NC Eden

U Slavie 1527
parking, -1.patro
100 00 PRAGUE

FaM ELEKTRONIC

Melnicka 275
250 65 LIBEZNICE

SONAX s.r.o.

Purkynova 2261/18a
568 02 SVITAVY

Tools Market

Zahradnickova 1390
674 01 TREBIC

X-Comp Nova Paka

Komenskeho 328
509 01 NOVA PAKA

JS PRO

Nadrazni 2151
549 01 NOVE MESTO NAD METUJI

UP & DOWN

Kamenice 133
547 01 NACHOD

Vinarna U Jakuba

Masarykovo namesti 64
564 01 ZAMBERK

Hotel Zimni stadion

Vinicna 31
293 01 MLADA BOLESLAV

DHL Locker Atrium Flora

Vinohradska 2828/151,
Patro -1, Vstup do parkingu
130 00 PRAGUE

Srivastav

Seifertova 61
130 00 PRAGUE

Smartavia.cz

Vaclavske Namesti 43
Pasaz Jalta
110 00 PRAGUE

DHL Express

Klimentska 46
110 00 PRAGUE

ITS ServisMAX

Karlovo namesti 29
120 00 PRAGUE

DHL Locker Centrum Stromovka

Veletrzni 1623/24
parking, patro -1
170 00 PRAGUE

BUGABOO

Vsehrdova 430/27
118 00 PRAGUE

Kvetinarstvi Mazurska

Mazurska 485
181 00 PRAGUE

Prodejna psiho krmiva Hill's

Plzenska 240/169
150 00 PRAGUE

DHL Express

Bucharova 2641/14
158 00 PRAGUE

ELEKTRO - TV - RADIO - SAT- PC

Claudiusova 1183/II
377 01 JINDRICHUV HRADEC

HOS Sobeslav

Nova 483
392 01 SOBESLAV

Vinoteka pod Vezi

Budejovicka 607
391 81 VESELI NAD LUZNICI

DHL Express

Parkerova 626
250 67 KLECANY

MD Optika

Tylova 735
278 01 KRALUPY NAD VLTAVOU

DISPECHEM

Prazska 98
679 61 LETOVICE

Zdrava vyziva Na Ceste

Sokolska 1235/38
680 01 BOSKOVICE

Opravna Obuvi

Trebovska 71
569 43 JEVICKO

Papirnictvi Ivin

namesti T.G.Masaryka 93
549 41 CERVENY KOSTELEC

MELICHAR.CZ

Dr. Teuchmanna 241
542 32 UPICE

Zamkarstvi Kolacek

Halouzkova 34
666 01 TISNOV

Elektro Sipek

nam. 1. kvetna 1306/4
664 34 KURIM

Ivana Jandova - ZELEZARSTVI Mnisek

Prazska 23
252 10 MNISEK POD BRDY

DHL Locker Globus Zlicin

Sarska 5/133
u vchodu do restaurace
155 00 PRAGUE

Chovatelske potreby Hostivice

CS armady 499
253 01 HOSTIVICE

Zelezarstvi Praktik s.r.o.

Travnice 925
511 01 TURNOV

ELOS-D

Krkonosska 266
543 01 VRCHLABI

Obchod sv. Anezky

Nam. Miru 27
375 01 TYN NAD VLTAVOU

MARKET MAREK s.r.o.

Palackeho nam. 11
665 01 ROSICE

Tipsport - Mlsny kramek

Palackeho namesti 25
Hotel Cerny lev
664 91 IVANCICE

DHL Locker OC MAX

Kubickova 1115/8
Atrium
635 00 BRNO

Cistici prostredky HIMMER

Sukova 8
objekt PCS, Vrba-Cergomont
678 01 BLANSKO

Vinoteka Transvin Blansko

Nam. Svobody 8/14
678 01 BLANSKO

Sazka Jedovnice

Havlickovo namesti 129
679 06 JEDOVNICE

DENALI SPORT s.r.o.

Ceskoslovenske Armady 651/9
789 01 ZABREH

Valuty.net

Novy Svet 327
512 46 HARRACHOV

Rybarske potreby - Robert Anyz

Ceska 193/2424
266 01 BEROUN

BERANEK s.r.o.

Kleinerova 1469
272 01 KLADNO

Chovatelske potreby & ekodrogerie

Purkynova 35g
612 00 BRNO

DHL Locker Tesco Kralovo Pole

Cimburkova 593/4
at the entrance to the store Tesco
next to the exchange office
612 00 BRNO

IBC moda & sport

Prikop 838/6
602 00 BRNO

TV Products - Brno

Kapucinske namesti 13
602 00 BRNO

PPL Parcelshop OC Letmo

Nadrazni 681/2a
floor 3 OC Letmo
602 00 BRNO

Zelezarstvi u Sroubka

Taborska 4356/224
615 00 BRNO

Drogerie - Papir - Domaci potreby

Petra Krivky 525/1a
634 00 BRNO

Western Union Phuoc Hien

Olomoucka 1193/61a
Trznice Vinamo
627 00 BRNO

Vinoteka Transvin - Kalinka

Dlouha 579/1
625 00 BRNO

Drogerie Pikna

Pricky 707/3
625 00 BRNO

Vinoteka Znovin

Jihomoravske nam. 1098/1
627 00 BRNO

DHL Express

Letiste Brno - Turany 963/3
Cargo zone
627 00 BRNO

CS KONTAKT - Rochlice

Krejciho 994
460 06 LIBEREC

DHL Express

Jeronymova 563
460 06 LIBEREC

M-FOTOSTUDIO

Felberova 15/13
460 01 LIBEREC

DHL Locker OC Forum Liberec

Soukenne namesti 669/2a
2 patro, Foodcourt
460 01 LIBEREC

KLM Elektro Trebon

Svobody 52
379 01 TREBON

Kostky Pb, a.s.

Zizkova 708
261 01 PRIBRAM

Nabytek MK

17. Listopadu 295
(vchod z ulice Bozeny Nemcove)
261 01 PRIBRAM

Foto Slany

Soukenicka 59
274 01 SLANY

Vinoteka Raj Vina

Arnostova 96
413 01 ROUDNICE NAD LABEM

Suvenyry Welser

Nad parkovistem 969
373 41 HLUBOKA NAD VLTAVOU

Tabak V. Volfa

V. Volfa 1318/11
370 05 CESKE BUDEJOVICE

Bazar Faeton

Otakarova 51
370 01 CESKE BUDEJOVICE

DHL Express

Hlinska 2
370 01 CESKE BUDEJOVICE

DHL Locker DOC Mercury

Nadrazni 1759
patro -1, vchod do parkingu
370 01 CESKE BUDEJOVICE

Kamatex s.r.o.

Bavorovska 84
389 01 VODNANY

Zelezarstvi Fiala Znojmo

namesti Svobody 1551/4
669 02 ZNOJMO

TV Products - Znojmo

Tovarni 14
669 02 ZNOJMO

Autoservis Oblekovice

Oblekovicka 85/35
Entrance from str. U Reky
671 81 ZNOJMO

ZDRAVY KOUTEK

Stefanikova 950
664 61 RAJHRAD

Potraviny LANG

Masarykovo namesti 1665/8
664 51 SLAPANICE

GECOM

Havlickova 632/14
784 01 LITOVEL

Klenotnictvi ADANITO

Masarykovo nam. 34
783 91 UNICOV

EPRAM - el cigarety Ceska Lipa

Jindricha z Lipe 124/2
470 01 CESKA LIPA

InJup.cz

Sluknovska 3080
470 01 CESKA LIPA

FOTOO

Purkynova 158
473 01 NOVY BOR

Manikura Silvie Rezna

Hybesova 443
691 23 POHORELICE

Sdruzene sluzby Blatna

Zizkova 120
388 01 BLATNA

Cerpaci stanice HOS C. Velenice

Vitorazska
378 10 CESKE VELENICE

Cyklo - S

Susilovo namesti 423/47
683 01 ROUSINOV

Domaci potreby Valnicek

Zborovska 41
684 01 SLAVKOV U BRNA

Bytovy design - darkove zbozi

Dukelska 120/8
682 01 VYSKOV

Prostejovsky Pramen

Olomoucka 4181/57
796 01 PROSTEJOV

Cyklo & Hobby

Lidicka 748
412 01 LITOMERICE

Mobilcentrum Pavel Soral

Terezinska 272/37
410 02 LOVOSICE

Automobily Vazka

Raisova 146
464 01 FRYDLANT

Petr Nemec - GSM Centrum

Husovo namesti 10
269 01 RAKOVNIK

ARDON SAFETY-Olomouc

Hnevotinska 825/54b
779 00 OLOMOUC

MAN-GO InternetCafe

Palachovo namesti 1
779 00 OLOMOUC

Bozena Gatekova SPEKTRUM POTREB

Polska 604/4
779 00 OLOMOUC

Zverimex Spalicek

Druzebni 768/2b
779 00 OLOMOUC

Potraviny Klarka

Dolni namesti 58/30
779 00 OLOMOUC

TV Products - Olomouc

1. maje 22
779 01 OLOMOUC

DHL Locker CPI City Center

tr. Kosmonautu 1294/29
779 00 OLOMOUC

DHL Express

Dolni Novosadska 335/94
P3 Park
783 01 OLOMOUC

Jan Pohorelsky - P.P.-TEX AUTO

Chvalkovicka 192/43
779 00 OLOMOUC

Detsky obchod Clovicek

Palackeho nam. 100
, COD shipments not accepted
386 01 STRAKONICE

Jitka Second hand

Druzstevni 615
382 32 VELESIN

PC Obchod

Namesti 28.rijna 178
407 21 CESKA KAMENICE

Fortuna

Masarykovo nam. 88
337 01 ROKYCANY

Svet barev Strekov

Novosedlicke namesti 62/19
400 03 USTI NAD LABEM

DHL Locker Forum Usti nad Labem

Bilinska 3490/6
-1 patro, vstup do parkingu
400 01 USTI NAD LABEM

Hracky WIKY - Jan Kodad

Vodnanska 47
383 01 PRACHATICE

EPRAM Decin

Uhelna 1896/2
405 02 DECIN

Restaurace Bambus

Ruska 705/50a
405 02 DECIN

Zahradni a lesni technika

Linecka 356
382 41 KAPLICE

Elektrocentrum

Plesivecka 136
381 01 CESKY KRUMLOV

PROPOS - Vrbno

Bezrucova 619
793 26 VRBNO POD PRADEDEM

Kvetiny Kopretina

namesti Augustina Nemejce 68
335 01 NEPOMUK

Tadora.cz

Bratislavska 452/11
691 45 PODIVIN

Papirnictvi Sluknov

nam. Miru 286
407 77 SLUKNOV

DHL Freight Teplice

Katerinska 95
417 42 NOVE MODLANY

U drevene carodejky

Masarykova 596/21
415 01 TEPLICE

Svet barev a tonu

Velke Novosady 406/5
750 02 PREROV

DHL Locker OC Galerie Slovany

Nam. Generala Piky 2703/27
patro -1, vchod do parkingu
326 00 PLZEN

TV Products - Plzen

Rooseveltova 17
301 00 PLZEN

Vydejni @ darkove centrum

Kollarova 12
301 00 PLZEN

Nugatu.cz

Otylie Beniskove 1695/16
301 00 PLZEN

Drogerie WOMS

Gerska 1951/15
323 00 PLZEN

DHL Express

U Privadece 1360/7
326 00 PLZEN

FLOP TOP Vimperk

Kaplirova 69
385 01 VIMPERK

NEXX Pocitace

Kollarova 277/5a
697 01 KYJOV

ELEKTRO Kubes

Hodoninska 99
696 03 DUBNANY

Trafika - Josef Cepl

Ceske Armady 3540
767 01 KROMERIZ

Drogerie Vlasak

SNP 455/38
434 01 MOST

FRUXY

T.G.Masaryka 183
342 01 SUSICE

SPORT TEAM

Pod Zamkem 3459/2a
690 02 BRECLAV

Rybarske potreby Prestice

Husova 1264
334 01 PRESTICE

Motocentrum Litvinov

S.K.Neumanna 2170
436 01 LITVINOV

Zelezarstvi Fiala Hodonin

Narodni trida 3798/50
695 01 HODONIN

MHM - Sluzby a pojisteni

Nam. 3.kvetna 1605
765 02 OTROKOVICE

FOTOATELIER

Opavska 19
749 01 VITKOV

AUTO PLACHY

Zackova 614
753 01 HRANICE

Fortel katalog

Sance 121
687 24 UHERSKY OSTROH

Sertel s.r.o.

Kpt. Jarose 1551
432 01 KADAN

LEDme s.r.o.

Krnovska 2816/78
746 01 OPAVA

Prodejna Sladky spanek

namesti Osvoboditelu 6/7
746 01 OPAVA

DHL Locker Globus Opava

Tesinska 2830/83
u vchodu do restaurace
746 01 OPAVA

EUROBit Velke Hostice

Opavska 432
747 31 VELKE HOSTICE

Zdrava vyziva Gospos

Namesti 415/26
747 21 KRAVARE

ARMY SHOP ARMYTRADE - 4shop.cz

Dolni Valy 631
688 01 UHERSKY BROD

CSAD Ostrava-AN Novy Jicin

Sokolovska 1961/3
741 01 NOVY JICIN

DHL Express

Gen.Fajtla 372
Areal Letecke Cargo, Modul 8
742 51 MOSNOV

DHL Express

Sportovni 673/17a
360 01 KARLOVY VARY

Vinoteka - Penzion A5A

5. kvetna 114/26
360 01 KARLOVY VARY

Army Obchod

Sokolovska 129/111
360 05 KARLOVY VARY

GNX s.r.o.

Zavodu Miru/U Rempa 895/14
360 17 KARLOVY VARY

PROXIMA s.r.o.

kpt. Jarose 195/5
360 06 KARLOVY VARY

Zverimex Forpet

Hlavni trida 678/118
708 00 OSTRAVA

Venore Point

Martinovska 3247/164
723 00 OSTRAVA

Zverimex U Gastona

nam. Vaclava Vacka 1675
708 00 OSTRAVA

servisNavigaci.cz

Grmelova 2069/9
709 00 OSTRAVA

Turbosolarium

Gen. Hrusky 1216/23
709 00 OSTRAVA

DHL Locker Nadrazni

Nadrazni 2967/93
702 00 OSTRAVA

DHL Express Reception

Nadrazni 2967/93
702 00 OSTRAVA

Vyspimese.cz s.r.o. - Ostrava

Horni 300/77
700 30 OSTRAVA

Vse pro domacnost - Tescoma

Masarykovo nam. 176
756 61 ROZNOV POD RADHOSTEM

Baset potreby pro chovatele

Karlovarska 12
362 21 NEJDEK

Cukrarna a kavarna Oli

Radnicni nam. 824/2
739 32 VRATIMOV

Kozena galanterie a odevy

Namesti Republiky 58
347 01 TACHOV

Jaroslava Ticha - Giganto.cz

Ostravska 244
735 81 BOHUMIN

Hracky, Papir

Nam. Miru 1536
735 32 RYCHVALD

SONY - Euronics

Masarykova tr. 944
735 11 ORLOVA

Ecigarko

J.V.Sladka 44
738 01 FRYDEK-MISTEK

EUROBit Frydek-Mystek

Na Porici 3241
738 01 FRYDEK-MISTEK

24

EUROBit Detmarovice

Koukolna 75
735 71 DETMAROVICE

Autodily Ikarus s.r.o.

Frystatska 2061/55b
733 01 KARVINA

Papirnictvi Hracky

Havlickova 58/15
358 01 KRASLICE

EUROBit Cheb

Prazska 2608/7
350 02 CHEB

Kadernicke potreby

Dlouha 17
350 02 CHEB

Rybarske potreby Charlie

Jablunkovska 853
737 01 CESKY TESIN

Vinoteka Merlot - Trinec

Palackeho 397
739 61 TRINEC

Lbazar

Revolucni 52/21
430 01 CHOMUTOV

Alkohol, cigarety

Slovanska 1650/92
326 00 PLZEN

Trafika - Zbraslav

Zbraslavske namesti 465
150 00 PRAGUE

Medvidkovkladno.cz

Italska 2310
272 01 KLADNO

EUROBIT Krhov

Voderady 176
679 01 KRHOV

Tabak-Horova

Horova 1659/34
616 00 BRNO

Tabak-Ceska

Ceska 247/32
602 00 BRNO

Tabak-Nam.Svobody

Nam.Svobody 87/18
602 00 BRNO

CS OMV Luzice

Silnice c.55
696 18 LUZICE

Trafika Jaroslav Sahanek

Namesti 62
543 71 HOSTINNE

Tobikov.cz

U Trznice 856
277 11 NERATOVICE

DHL Locker Tesco Tabor

Sobeslavska 3038
390 02 TABOR

DHL Locker Tesco Roudnice nad Labem

Neklanova 2693
413 01 ROUDNICE NAD LABEM

DHL Locker Tesco Pisek

Nadrazni 2590
397 19 PISEK

DHL Locker Tesco Ceske Budejovice

J. Boreckeho 1590
370 02 CESKE BUDEJOVICE

DHL Locker Tesco Rakovnik

Luzenska 2725
269 01 RAKOVNIK

DHL Locker Tesco Cesky Krumlov

Domoradicka 299
381 01 CESKY KRUMLOV

DHL Locker Tesco Plzen-Borska pole

U Letiste 1074/2
Next to entrance to Tesco, right
318 00 PLZEN

DHL Locker Tesco Most

Rudolicka 1706/4
434 01 MOST

DHL Locker Tesco Klatovy

Domazlicka 909
Next to entrance to Tesco
339 01 KLATOVY

DHL Locker Tesco Cheb

Prazska 2494/15
Next to entrance to Tesco, left
350 02 CHEB

DHL Locker Tesco Prerov

Kojetinska 3133/10
750 02 PREROV

DHL Locker Tesco Ostrava

Prodlouzena 807
720 00 OSTRAVA

DHL Locker Tesco Karvina

tr.17 listopadu 883/2a
734 01 KARVINA

DHL Locker Tesco Boskovice

Chrudichromska 2454/3
Boskovice
680 01 BOSKOVICE

DHL Locker Tesco Mikulov

28. rijna 985/14
Mikulov
692 01 MIKULOV

DHL Locker Tesco Kromeriz

Velehradska 3254/105
767 01 KROMERIZ

DHL Locker Tesco Uherske Hradiste

Tr. Marsala Malinovskeho 1304
on the right side,near the entrance
686 01 UHERSKE HRADISTE

DHL Locker Tesco Slavicin

Hradecka 158
Slavičín
763 21 SLAVICIN

DHL Locker Tesco Valasske Mezirici

Masarykova 873
Krasno nad Becvou
757 01 VALASSKE MEZIRICI

Barvy - Laky

Petra Bezruce 1064
407 47 VARNSDORF

Potraviny CBA, Brno

Optatova 547/1a
637 00 BRNO

Hura na ryby

Wainerovo namesti 253/7
618 00 BRNO

Chovatelske potreby U Fida

Volgogradska 2475/1a
700 30 OSTRAVA

Zelezarstvi Albrecht H.Brod

Havlickova 3305
580 01 HAVLICKUV BROD

Kolonial Zdrava Zaba

U stareho mlyna 16/10
104 00 PRAGUE

Drogerie-Strakata

Gabrielovo namesti 51
391 55 CHYNOV

Elektro Mikes

Masarykova 55
588 56 TELC

Obchodni dum XKV

Pod Farou 393
399 01 MILEVSKO

Zelezarstvi Uhlirovi

Husova 76/53
671 72 MIROSLAV

BTshop.cz

Hlavni 666/2
691 06 VELKE PAVLOVICE

Trafika Chodov

Husova 786
357 35 CHODOV

CANARD s.r.o.

Goldscheiderova 2925/3
301 00 PLZEN

DHL Locker Explora

Bucharova 2641/14
Explora BC
158 00 PRAGUE

24

Fitness13.cz

Hansmannova 22
613 00 BRNO

DHL Locker Tesco Vlasim

Okruzni 1884
258 01 VLASIM

DHL Locker Tesco Jesenice

Zbraslavska 68/68
252 42 JESENICE

DHL Locker Tesco Prague - Letnany

Veselska 663
locker is inside shopping mall
on left at the entrance to Tesco
199 06 PRAGUE

24

DHL Locker Tesco Jihlava

Brnenska 4971/74
586 01 JIHLAVA

DHL Locker Tesco Julianov

Belohorska 4462/151
636 00 BRNO

PPL CZ - centrala - TEST

TEST - mimo provoz
251 01 RICANY

DHL Locker VIVO Hostivar

Svehlova 1391/32
2.floor, next to cinema
102 00 PRAGUE

SKLAD Paramos

Hranicka 570
757 01 VALASSKE MEZIRICI

Nabytek U Letky

Lexova 2253
530 02 PARDUBICE

ITex24.cz

Barcalova 1
562 01 USTI NAD ORLICI

PPL Parcelshop Prosek

Vysocanska 382/20
1. floor, NC Billa
190 00 PRAGUE

Chovatelske potreby - PanMalina.cz

Kamenicka 681/12
170 00 PRAGUE

PPL Parcelshop Borislavka

vestibul metra Borislavka
160 00 PRAGUE

LUZKOVINY

28.rijna 16
563 01 LANSKROUN

KABACENTRUM

U Prehrady 4596/42a
466 02 JABLONEC NAD NISOU

Tabak-Videnska

Videnska 995/63
639 00 BRNO

Namka Retenice

Liberecka 2306/7
415 03 TEPLICE

Spojmat Tabor

U Bechynske drahy 790/3
390 02 TABOR

DHL Express

Jindrisska 17
110 00 PRAGUE

Tabak Cernopolni

Cernopolni 213/10
613 00 BRNO

Divadelni Galerie

Marianske namesti 123
686 01 UHERSKE HRADISTE

Domaci a kuchynske potreba - Holice

Jungmannova 490
534 01 HOLICE

MARCOM - EKO

Namesti Premyslovcu 171/14
288 02 NYMBURK

Sperky4U-Parcelshop

Pospisilova 281/18
500 03 HRADEC KRALOVE

JK Cyklo

Novosady 96/48
594 01 VELKE MEZIRICI

DINERO

Palackeho trida 318/159
612 00 BRNO

Toptraxs Enterprises

Bubenickova 490/14
615 00 BRNO

PALAPALINA

Libusina trida 579/2
623 00 BRNO

Drogerie a zdrava vyziva

Vrchlickeho 830
460 14 LIBEREC

Potraviny - Zoubkova

Hejnicka 136
460 01 LIBEREC

Pochlik TV

V Portyci 450
397 01 PISEK

New Wave CZ

Zavodu miru 974/66a
360 17 KARLOVY VARY

MASRETTE

U Hrubku 2997/154
700 30 OSTRAVA

COPY Ostrava

Jureckova 1935/12b
Entrance: street Umelecka
702 00 OSTRAVA

JAKU Trade s.r.o.

Vodarenska 219
276 01 MELNIK

ITKomponenty.cz

M. R. Stefanika 318/1
787 01 SUMPERK

Papirko.eu

S.K.Neumanna 358/4
789 85 MOHELNICE

PANTHERS

namesti T.G.Masaryka 31
672 01 MORAVSKY KRUMLOV

Cyklosport Prasivka s.r.o.

Bezrucova 1984
744 01 FRENSTAT POD RADHOSTEM

PROPOS - Bruntal

Namesti Miru 13
792 01 BRUNTAL

Autobaterie Klaza

Tovarni 1587/8
750 02 PREROV

Bilson Trade Brno

Fillova 111/14
638 00 BRNO

Naradi Vrabelova

Ruzova 146
595 01 VELKA BITES

BN Aktivity Bike

Kostelni 369
518 01 DOBRUSKA

Bezobalovy obchod Znova

B. Nemcove 3
794 01 KRNOV

Akompas s.r.o.

Stefanikova 120/51
enter: street Sumavska
602 00 BRNO

CK Kentlucky s.r.o.

Slezska 874
Entrance from Sumavska
120 00 PRAGUE

Potraviny AGORAS

Palavske namesti 4284/2b
628 00 BRNO

Srubecka Smisenka

Ledenicka 252
370 06 CESKE BUDEJOVICE

Vydejna zasilek Budovatelu 3275

tr. Budovatelu 3275
434 01 MOST

DHL Locker Futurum Hradec Kralove

Brnenska 1825/23A
parking, enter to shop. center
500 09 HRADEC KRALOVE

DHL Locker Tesco Mlada Boleslav

Havlickova 1255
inside the store,
next to the entrance on the right
293 06 KOSMONOSY

ITC Travel & Conference s.r.o.

Smolenska 124/10
101 00 PRAGUE

DHL Locker Luka Living

Mukarovskeho 2590/2
2.floor, reception
155 00 PRAGUE

Cukrarna Poja

Matejovskeho 153/11
153 00 PRAGUE

Centrum Bermanka

Bermanova 985
196 00 PRAGUE

MOBILSTORE

Liberecka 631/14
466 01 JABLONEC NAD NISOU

Trafika-TipSport-Lanskroun

Hradebni 3
563 01 LANSKROUN

PAVEL KUCHAR - SPORT

Bratislavska 552/27
693 01 HUSTOPECE

Optika Bryland

Chrudimska 2157/7
130 00 PRAGUE

Jojowings s.r.o.

Chvalinska 2109
413 01 ROUDNICE NAD LABEM

Vino&Delikatesy

Belohorska 232/97
169 00 PRAGUE

Sarhan PC

Cukrovarska 521/8a
682 01 VYSKOV

CETERIS-eshop Sbohemnudo.cz

U Hriste 276
760 01 ZLIN

Pracovni Odevy

Palackeho 168
755 01 VSETIN

PPL Parcelshop Zabehlice

Jablonova 2136/11
106 00 PRAGUE

Stavebniny-Petr Rozmajzl

Liberecka 306
Chrastava
463 31 CHRASTAVA

Fajn Foto

Antuskova 308
256 01 BENESOV

Jan Chroma - J&J Centrum

Klivarova 1
750 02 PREROV

TONERMARKET VYSKOV

Nadrazni 4/3
682 01 VYSKOV

TONERMARKET S.R.O.

Plumlovska 705/69
796 01 PROSTEJOV

ZAMECNICTVI VYKONA UTEKAL

kromerizska 201
752 01 KOJETIN

KRONA NARADI

Jozky Slineho 2349/4
767 01 KROMERIZ

MUZEUM REZNICTVI

Hranicka 430/34
757 01 VALASSKE MEZIRICI

LARA FUSKY

Polaskova 29
757 01 VALASSKE MEZIRICI

YUTANI WEYLAND s.r.o.

Susilova 677
768 61 BYSTRICE POD HOSTYNEM

Vyspimese.cz s.r.o. - Frydek-Mistek

Slezska 3565
738 01 FRYDEK-MISTEK

Rybarske potreby

Jiraskova 183
582 82 GOLCUV JENIKOV

EXPERT Elektro-Ledec

Husovo nam.71
584 01 LEDEC NAD SAZAVOU

FASHION FOR HELP, Hlinsko

Wilsonova 202
539 01 HLINSKO

Harmonie-zdrava vyziva

Jana Autengrubera 167
395 01 PACOV

Hotel Havel

Stare namesti 61
516 01 RYCHNOV NAD KNEZNOU

Tabak a papirnictvi

Trida T.G.Masaryka 879
552 03 CESKA SKALICE

ROKOS ZELEZARSTVI

Edisonova 7/29
109 00 PRAGUE

Instalace Kuhtreiber

Karlovo nam. 35/28
674 01 TREBIC

Zdravotni potreby Na Letne

Ceskych bratri 407
547 01 NACHOD

Papirnictvi-Reas-Pack

Krakonosovo namesti 68
541 01 TRUTNOV

Velkoobchod Mecir

Horska 30
541 01 TRUTNOV

Radiotelevizni servis

Komenskeho 387
753 01 HRANICE

EXPERT Elektro-Hranice

Druzstevni 2110
753 01 HRANICE

Instalcentrum

Husova 94
349 01 STRIBRO

Bambino

Hlavni 525/92
352 01 AS

Knihy-papir v Repich

Nevanova 1050/11
163 00 PRAGUE

FLOSMAN Dacice

Krajirova 15
380 01 DACICE

KABACENTRUM Tanvald

Zakova 144
468 41 TANVALD

FLOSMAN

Prazska 18
378 06 SUCHDOL NAD LUZNICI

FLOSMAN Vcelna

Jirickova 663
373 82 VCELNA

FLOSMAN Netolice

Gregorova 405
384 11 NETOLICE

DRAGO Zlin

Okruzni 4701
760 05 ZLIN

Bohemia crystal

Krusnohorska 229/5
417 01 DUBI

Arthas pocitace-elektro

namesti Miru 221/8
795 01 RYMAROV

Elektro U Stare posty

Senovska 669/1
736 01 HAVIROV

PNS Potraviny Kapo

Zizkova 838
280 02 KOLIN

PNS KH SUPERMARKET

Bavlnarska 540
513 01 SEMILY

Dortove dekorace

U Rybnicku 572
378 33 NOVA BYSTRICE

COOP HB 817

Sokolovska 911
675 51 JAROMERICE NAD ROKYTNOU

PNS Napojka

Na Uboci 4517/5
466 01 JABLONEC NAD NISOU

Wolfsped

Vojtechova 270
344 01 DOMAZLICE

SIRIUS servis elektroniky

Zarami 4077
enter street Vodni
760 01 ZLIN

Paprsek cestovni agentura s.r.o.

tr. Svornosti 1177/57
779 00 OLOMOUC

Svetzdobeni.cz

1. maje 574
767 01 KROMERIZ

Fanshop SK Sigma Olomouc

Legionarska 1165/12
779 00 OLOMOUC

MARC'O sport s.r.o.

Dr.Stejskala 12
370 01 CESKE BUDEJOVICE

SiFra moda - Klatovy

Randova 112
339 01 KLATOVY

Reklama Modrice

namesti Svobody 5
664 42 MODRICE

Deluxe Flowers

Rybna 682/14
Burzovni Palac
110 00 PRAGUE

IN-MOBIL

Vaclava Klementa 824
294 01 MLADA BOLESLAV

Drogerie Papirnictvi

Dolni Rokytnice 355
512 44 ROKYTNICE NAD JIZEROU

SHELL Petrol Station

Videnska 343
252 42 VESTEC

24

SHELL Petrol Station

Bohdalecka 3067/33
101 00 PRAGUE

SHELL Petrol Station

Evropska 787/200
160 00 PRAGUE

Mobilni telefony Morse

Masarykovo namesti 1232
686 01 UHERSKE HRADISTE

SHELL Petrol Station

Freyova 4
190 00 PRAGUE

Routing

Husova 465/35
301 00 PLZEN

Bazar Zdenek Korbar

Nezvalova 376
592 31 NOVE MESTO NA MORAVE

Trafika - Autobusove nadrazi

Zapadni 2080/2A
360 01 KARLOVY VARY

Libbella

Leitnerova 16
602 00 BRNO

Autodily HP

Husova 2513
440 01 LOUNY

TENO PLUS s.r.o.

tr. 3. kvetna 325
763 02 ZLIN

Servis Na Rovinu - Praha

Krizikova 679/65a
186 00 PRAGUE

CK NATOUR

Rooseveltova 6/8
602 00 BRNO

BIKEMAX-Olomouc

kpt.Nalepky 962/13
779 00 OLOMOUC

PrimaCigareta Bruntal

Ruska 1632/11
792 01 BRUNTAL

Kramek s napoji

nam. CSA 23/18
793 95 MESTO ALBRECHTICE

A-MAX interierove studio

Sobeslavska 3172
390 05 TABOR

Drogerie na Hvezde

Klisska 813/118
400 01 USTI NAD LABEM

Hudebni nastroje - Harfa

Konevova 142
130 00 PRAGUE

Drogerie barvy laky Libus

Libusska 42/190
142 00 PRAGUE

Sport Design Store

Prazska 709
252 41 DOLNI BREZANY

Scrapyard.cz

Hajkova 1676/6
130 00 PRAGUE

Komec Spajz

Marianske nam. 617/1
617 00 BRNO

PC Star

nam. Dr. E. Benese 19/60
769 01 HOLESOV

EXCHANGE MONEY POINT

Nova Louka 284/5
360 01 KARLOVY VARY

DYTRON

Generala Hlado 756/20
741 01 NOVY JICIN

Wonet

Jablunkovska 2041/38
Tesco
737 01 CESKY TESIN

SHELL Petrol Station

Novinarska 533
702 00 OSTRAVA

24

Realitni sluzby

Brezinova 4690/144
586 01 JIHLAVA

Mobily Letna

Milady Horakove 815/42
170 00 PRAGUE

Allzora Podoli

Jeremenkova 1144/8
147 00 PRAGUE

Allzora Smichov

Na Plzence 1166/1
150 00 PRAGUE

Allzora Neratovice

Korycany 49
277 45 NERATOVICE

CSAD Ostrava-AN Sumperk

Jesenicka 3371/17
787 01 SUMPERK

PC Barrandov

Tilleho namesti 792/2
Pasaz Kamera
152 00 PRAGUE

AZ OKNA

Kollarova 1693
698 01 VESELI NAD MORAVOU

DHL Locker Centrum Cerny Most

Chlumecka 765/6
-1 patro, Green parking lobby
198 19 PRAGUE

ELEKTRA - Petr Michalec

Jungmannova 132
565 01 CHOCEN

Zdravotni potreby

Zizkova 267/33
789 01 ZABREH

Darky u Sudu

Nakladni 360
438 01 ZATEC

Hana Outratova-Moje smecka

Masarykovo nam. 418
763 12 VIZOVICE

Radek Machac

Hukvaldska 352
739 11 FRYDLANT NAD OSTRAVICI

OMV Havlickuv Brod

Humpolecka 20
580 01 HAVLICKUV BROD

24

TOP KOUPELNY s.r.o.

Machova 1265
739 61 TRINEC

Zdrave Plody

nam. Smirickych 36
281 63 KOSTELEC NAD CERNYMI LESY

Kveedo

Podebradska 1083
289 12 SADSKA

Safranka-vydejni misto

Jeremiasova 1106/1
155 00 PRAGUE

UNIDAX

Delnicka 776/5
170 00 PRAGUE

Ella Shop

Delnicka 71
170 00 PRAGUE

BazarZastavarna.CZ

Sokolovska 1285/160
180 00 PRAGUE

Takos pracovni odevy

Sokolovska 184/1406
180 00 PRAGUE

LEDSOFT

Lesni 1591
560 02 CESKA TREBOVA

PROBiT elektro

Nadrazni 982
560 02 CESKA TREBOVA

Phone Guru

Podebradska 110/1
Entrance to yard Hloubetinska 38
198 00 PRAGUE

Cukrarna Fregatta

Pristavni 1
252 06 MECHENICE

PRIM Lysa nad Labem

Jedlickova 916/12
289 22 LYSA NAD LABEM

24

Kvetiny Flores

Namesti 66
742 83 KLIMKOVICE

Hudebniny KOPR

Skolni 890
742 21 KOPRIVNICE

JenMobilka

Farni 23
738 01 FRYDEK-MISTEK

AUTOSERVIS JIRI MAKOVSKY

Hegerova 171
572 01 POLICKA

Moje Trafika

Susicka 148/29
326 00 PLZEN

Detsky klub Letnice

Trinecka 650
entrance:street Chlebovicka,
1.floor
199 00 PRAGUE

Irma Rajmova-Trafika

Jenikovska 362/66
286 01 CASLAV

FALON

Jose Martiho 269/31
162 00 PRAGUE

Protrenink.cz

Drnovska 968/36
161 00 PRAGUE

efotokniha

Heinemannova 2695/4
160 00 PRAGUE

KVETINARSTVI ACACIA

Dejvicka 396/32
160 00 PRAGUE

Ho. Co. TRADE s.r.o.

Kamycka 241//2c
160 00 PRAGUE

Note5

Radlicka 180/50
150 00 PRAGUE

Zlatnictvi a hodinarstvi

Lidicka 752/10
150 00 PRAGUE

OPTIKA RADLICKA

Radlicka 367/25
150 00 PRAGUE

NutBee.cz

Prusikova 2577/16
155 00 PRAGUE

Wellpet-Belehradska

Belehradska 858/23
120 00 PRAGUE

Stavebniny RENOVA

Prilepska 1791
252 63 ROZTOKY

Chovatelske potreby Frybort

Zaoralkova 1369
252 63 ROZTOKY

MICRONIX

Antala Staska 1076/33a
140 00 PRAGUE

PNS Trafika Doksanska

Masarykova 17/86
252 19 RUDNA

ESO Market Potraviny Kotal

Starochuchelska 400/18
159 00 PRAGUE

V Boude

Lysinksa 1861/40
143 00 PRAGUE

Potraviny Lipence

Na Bambouzku 264
155 31 PRAGUE

SLOVAN-restaurace

Karlovarska 288
273 51 UNHOST

Roubenka

Masarykova 770
252 19 RUDNA

Martin Smesny-U hrebika

Cs.armady 97
252 30 REVNICE

Chopper-horse Shop

Trebizskeho 1481
738 01 FRYDEK-MISTEK

Bytovy textil Martin Pospisil

CSA 3/50
785 01 STERNBERK

PNS Trafika Stindlova

Branicka 141/57
147 00 PRAGUE

Krasne zvire

Pocernicka 64
108 00 PRAGUE

Fitness BEE FIT

Na hrebenech ll 1718/10
147 00 PRAGUE

Galanterie-bytovy textil+Halens

Masarykovo namesti 23
254 01 JILOVE U PRAHY

Electroshop.cz

Masarykova 369/22
250 88 CELAKOVICE

PNS Potraviny Sadil

Statenicka 210
252 62 STATENICE

PNS Trafika Holesovice

Ortenovo namesti 1025/27b
170 00 PRAGUE

FASHION FOR HELP, Straznice

Predmesti 393
696 62 STRAZNICE

PNS Trafika Hanka

namesti T.G.Masaryka 117
264 01 SEDLCANY

U Lukase

T.G.Masaryka 2211
347 01 TACHOV

Galanterie-pradlo

Anglicka 21
351 01 FRANTISKOVY LAZNE

3J Elektronika

Obrancu miru 120
417 05 OSEK

DHL Locker Tesco Brandlova

Brandlova 1640/2
inside the store,
next to the entrance on the left
144 00 PRAGUE

OMV Hlinsko

Policska 1545
539 01 HLINSKO

OMV Brno-Herspicka

Herspicka 11a
619 00 BRNO

24

OMV Modrice

Brnenska 671
664 42 MODRICE

24

OMV Lednice

Mikulovska 720
691 44 LEDNICE

24

OMV Hodonin

Velkomoravska 0
695 01 HODONIN

24

OMV Ostrava-Rudna

Rudna 0
703 00 OSTRAVA

24

OMV Ostrava-Marianskohorska

Marianskohorska 3121/55
702 00 OSTRAVA

24

OMV Praha-Karlovarska

Karlovarska 47
163 00 PRAGUE

24

OMV Plzen-Domazlicka

Domazlicka 170
318 00 PLZEN

24

TDC-Tabak Dobris

Mirove namesti 202
263 01 DOBRIS

Matylda

Bellusova 1848/12
155 00 PRAGUE

CSAD Ostrava-AN Koprivnice

Stefanikova 36/49
742 21 KOPRIVNICE

Bistro na radnici

Edisonova 82
700 30 OSTRAVA

OMV Bruntal

Staromestska 6
792 01 BRUNTAL

24

OMV Unicov

Litovelska 1170
783 91 UNICOV

Simply Beauty s.r.o.

Drahobejlova 2391/13
190 00 PRAGUE
DHL ServicePoint
Trafika MISCH - MASCH
1. maje 56
538 43 TREMOSNICE
Verify your shipment dispatch time yet for today.
Use your own packaging to wrap the shipment.
Opening hours
Mon-Fri

07:00-12:00

13:30-17:00

Sat

07:00-11:00

Sun

Closed
Holiday opening hours
From 12/24/2022 to 12/26/2022 closed
Available services
Picking up a shipment
Sending a shipment
International and domestic shipments
Contact details
840 103 000 , 220 300 111

Service Point ID: PRG1P5
Shipment / items limits
By item:
40 × 45 × 55 cm
25 kg
By shipment:
5 pc
25 kg
How to send via DHL Locker
1
Order the transport of a shipment online from the comfort of your home or office and submit it at your nearest DHL Locker.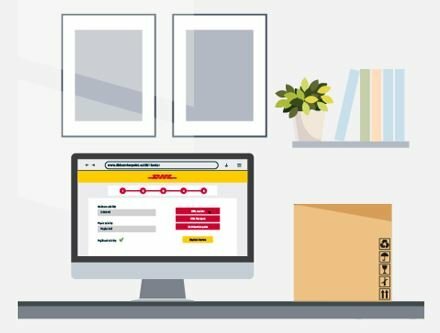 2
Pay for the transport online and print out the waybill.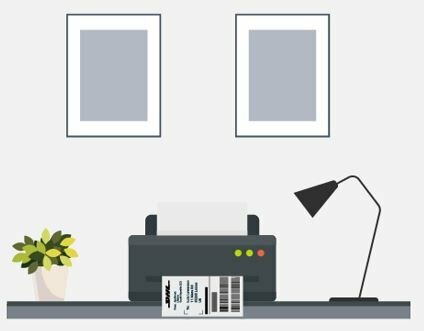 3
Bring the package and waybill to the DHL Locker of your choice when it is convenient for you. Scan the bar code from the waybill and then proceed according to the instructions on the screen, including rescanning the shipment code for confirmation.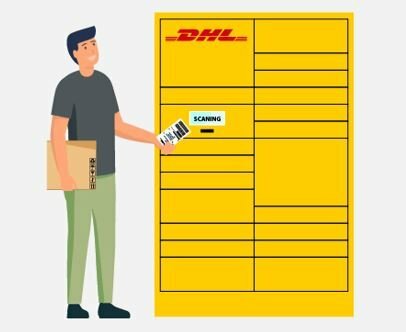 4
Then place the shipment in the DHL Locker – and it's done! You will be notified on your phone to confirm the submission. A courier will then pick up your package from the DHL Locker.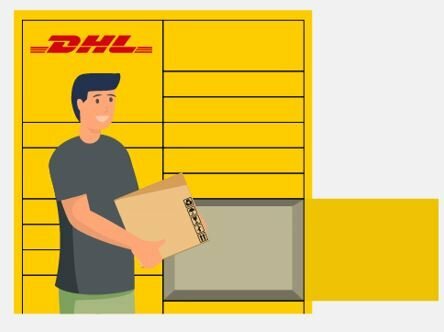 Play the video tutorial so you know how to do it!
How to pick up a shipment from a DHL Locker
1
Your shipment from abroad is already on its way and you don't want to wait for the courier? Forward the shipment to DHL Locker and pick it up when you can.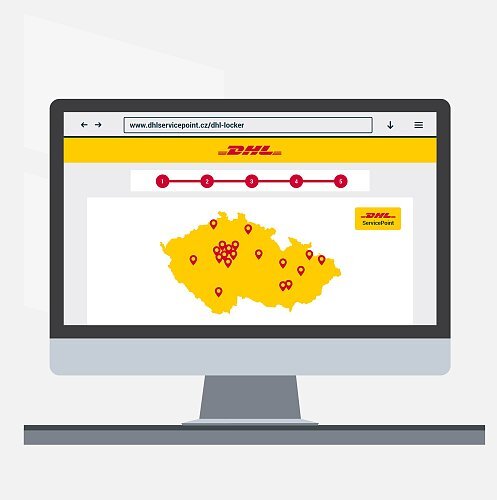 2
Wait for the SMS and e-mail with the PIN code to pick up the shipment.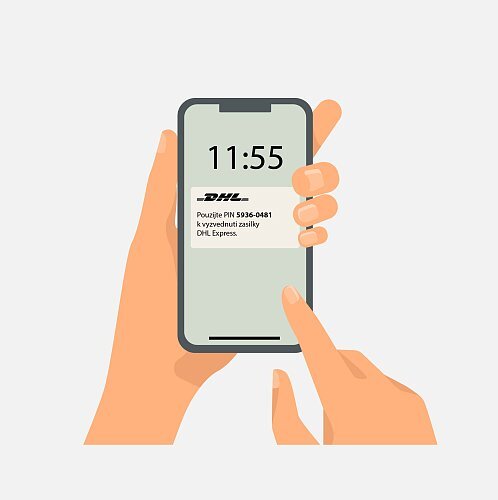 3
Use the PIN code to open the DH Locker.
4
And you're done! DHL Locker is an easy way to pick up your shipment at a time that suits you.